LUMION Medical Strength Hand Cleanser
CHF

16.00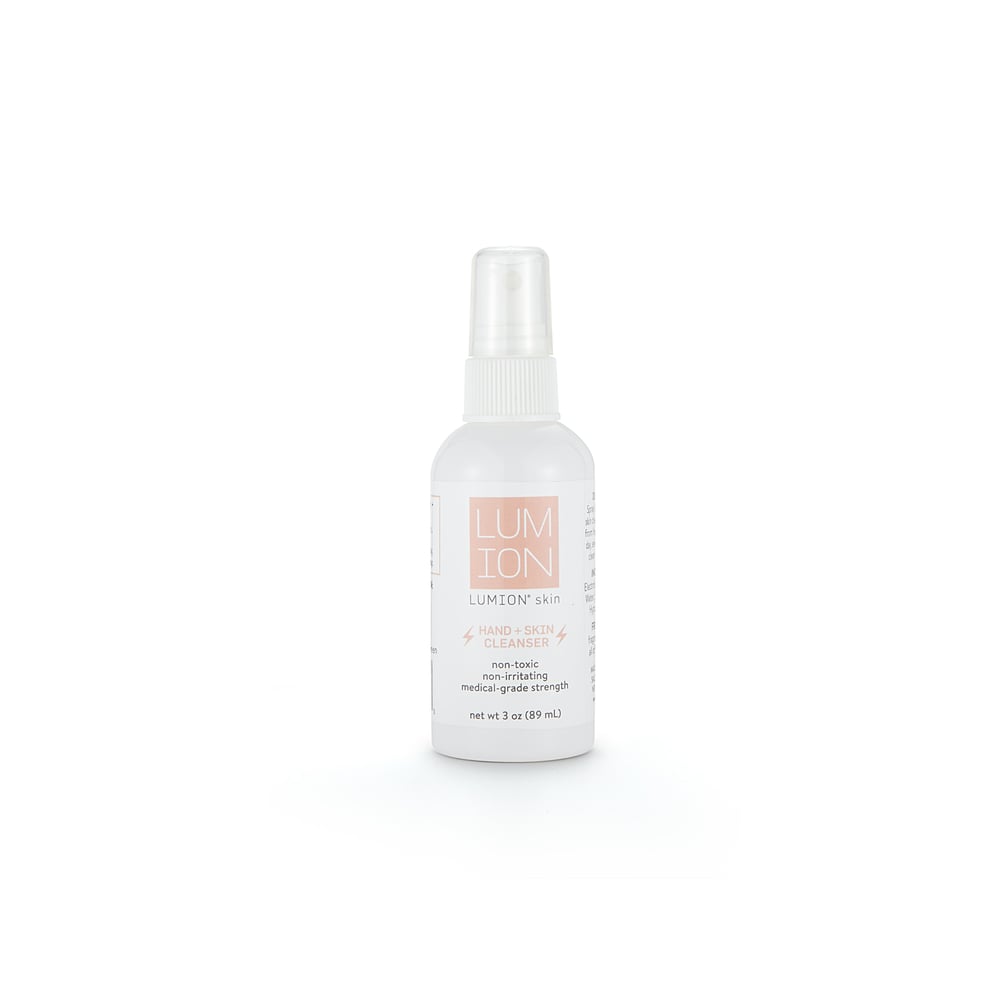 89ml
Clean + Healthy + Happy Hands on-the-go.
Safe + effective for the entire family (babies included)!
LUMION's medical strength hand cleanser is eco-friendly, non-cytotoxic, alcohol-free, and non-irritating to the skin. This all-natural formula will cleanse your hands while keeping them soft + healthy. Hospital strong, hand healthy.
The star ingredient Hypochlorous Acid (HOCL) is an infection fighting compound found in the human body and naturally occurs in your white blood cells. HOCL helps to defend your body from harmful bacteria, viruses, and inflammation.
WHEN + WHY
cleanse hands while on-the-go especially after coming into contact with high touch surfaces, safe to use around ears, eyes, mouth + nose
DIRECTIONS
Spray LUMION hand cleanser thoroughly from head to toe. Use all day, every day to obtain clean + healthy skin.
INGREDIENTS
electrolyzed oxygenated water, sodium chloride, hypochlorous acid
FREE OF
alcohol, sulfates, phosphates, fragrance, parabens + all of the yucky ingredients.
VEGAN + CRUELTY FREE
CLINICALLY PROVEN
MADE IN USA
Lumion
Lumion is a New York based brand founded by the two female owners Amy and Lisa in 2016. Amy who owns multiple fitness studios is always on-the-go and found her skin suffering from breakouts. Lisa who was living a life filled with work and travel was searching for the perfect natural product to help her skin deal with everyday stress. In 2010, Amy's father, a health-conscious entrepreneur, began experimenting with the stabilization of the LUMION formula because he believes that the toxic ingredients found in most consumer products are degrading our health. After using the serum directly on breakouts and the mist throughout the day, Amy began to see immediate results in the quality of her skin. Her skin now had a healthy glow. Amy knew she had to share this magical formula with the world. Amy shared her discovery with Lisa who quickly fell in love. Amy and Lisa launched LUMIONskin in 2016. Lumion donates 1% of their sales to the Kula Project. Kula empowers women to lift themselves out of poverty by giving them the knowledge, skills, and resources they need to start and grow a business.