IOXEL Antiaging Gel
CHF

99.00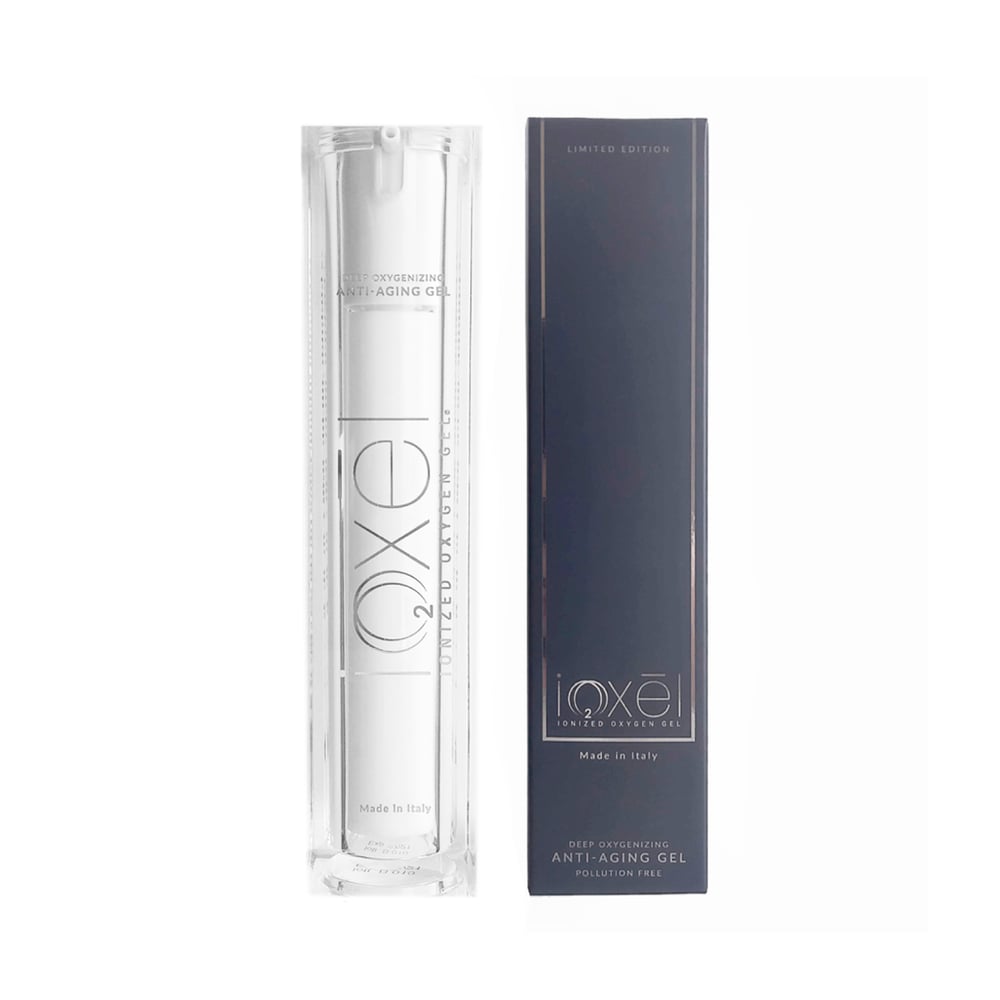 This rich gel deeply nourishes cells and restores skin layers, boosting collagen production. Effectively counters signs of aging and tackles damage from aging, stress, pollution and sun exposure. Rich in calcium, iron and elasticity-boosting vitamins, it is fragrance free and 100% natural.
For dry or mature skin marked by wrinkles and dilated, hypotonic pores.
HOW TO USE:
Ideal morning and evening for mature skin or as a night treatment for younger skin. Can be used alone or alongside the Ultra Light Gel to enhance oxygenating effect. In cases of dyschromia use in conjunction with the Deep Oxygenizing Lightening Gel to boost depigmenting effect.
1. Cleanse skin thoroughly with the Cleansing Water.
2. Apply one or two doses to fingertips and gently massage onto face, eye contour, neck and cleavage.
3. Use morning and evening or only in the evening.
After the first month of use the anti-aging gel will have completed its first cycle of work, oxygenating cells and regenerating deep into the skin's layers. Continue use to maintain results.
If skin feels dry after applying - an effect of ionized oxygen - follow with a non oxygen-based moisturizing cream.
DESCRIPTION:
The Anti-Aging gel is an exclusive treatment formulated with revolutionary ionized oxygen, the only molecule able to flow through skin via ionic swarm. Its lusciously rich formula deeply nourishes cells and invigorates skin layers, stimulating fibroblasts into producing new collagen.
It effectively combats signs of aging and damage caused by aging, stress, pollution and sun exposure.
INGREDIENTS:
With a base of Agar it is totally natural and packed with calcium, iron and vitamins that help keep skin supple.
Argan Oil enriches the formula. Containing antioxidant substances such as tocopherols, vitamin E, fatty acids and flavonoids, its symbiotic action prevents skin tissue ageing, improves elasticity and penetrates the deepest layers of the skin without leaving surface grease.
Retinol neutralizes the molecule that initiates the formation of free radicals, stimulating tissue cell regeneration, combating expression lines and boosting hydration.
Vitamin C sparks collagen synthesis and unleashes a lightening effect, leaving skin smooth and radiant.
Vitamin E effectively tackles free radicals.
The anti-aging gel is a unique concentrate of ionized oxygen, fatty acids, vitamins and omega 3, which aid in the natural turnover of cells and counteract the effects of time on the skin.